Includes the case citator FirstPoint, the encylopaedia Laws of Australia, as well as a range of law reports, unreported judgments, journals and commentary.
Includes the case citator CaseBase, the encyclopaedia Halsbury's Laws of Australia, as well as a range of law reports, unreported judgments, journals and commentary.
Includes a range of subject-specific law reports, journals, commentaries and newsletters.
Includes full-text legislation from all Australian jurisdictions as well as point-in-time legislation for a range of subjects.
Federal Register of Legislation
Includes authorised versions of Commonwealth principal Acts, amending Acts and delegated legislation
Includes an extensive collection of unreported judgments, legislation (including point-in-time NSW Acts), treaties, journals and law reform reports.
Find these and more: Law Research databases.
Law Alerts & Journal Table of Contents
Use alerting email or RSS feed services to keep up to date with developments in law.
Welcome to the Library's Law LibGuide. This guide provides you with a starting point for legal research. It includes information on:
Getting started

Finding legislation

Finding cases

Finding Bills and extrinsic material

Finding legal commentary

Finding Gazettes and government documents

Choosing the right database

Finding recommended readings

Assignment help

Referencing basics

How to cite
Click on the tabs at the top of the guide to view each page.
If the title of the law report or journal is abbreviated, you will need to find the full title before searching the Library Catalogue.
Useful legal abbreviation indexes include:
Australian courts use a system of Medium Neutral Citation to identify judgments. Each court has an 'identifier' or abbreviation that is used in these citations. The list below will help you find the full court name:
Australian corporate law
Call Number: KU956 .H37 2016
Publication Date: 2016
Commercial applications of company law
Call Number: KU956 .H36 2016
ISBN: 9780190304362
Publication Date: 2016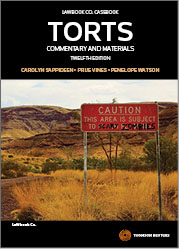 Torts : commentary and materials
Call Number: KU940 .T67 2016
ISBN: 9780455237848
Publication Date: 2016
Need HELP with your assignment or research?
Call us on 1800 300 753

Email us
Visit us in person at the information desk in the Library
Research Librarians

provide research consultations for Honours, Postgraduate and HDR students
Professional organisations
New publications from the Australian Parliamentary Library
Loading...